Terms & Conditions
TERMS OF SERVICES - NyRose Naturals, LLC
NyroseNaturals is a sub brand of HairVentionZ, LLC who manages this website. The terms "we", "us", and "our" refer specifically to NyRose Naturals LLC.  
By accessing and participating in the use and services of NyRoseNaturals.com, you accept and agree to be bound by the terms and conditions of this agreement. In addition, when using this website's particular services, you shall be subject to any posted guidelines or rules applicable to such services, which may be posted and modified from time to time, without notice.
ANY PARTICIPATION IN THIS SITE WILL CONSTITUTE ACCEPTANCE OF THIS AGREEMENT. IF YOU DO NOT AGREE TO ABIDE BY THE ABOVE, PLEASE DO NOT USE THIS SITE.
These Terms of Service apply to all without limitations on users who are browsers, vendors, customers, merchants, and contributors of content. We ask that you read these Terms of Service very carefully before accessing/using this site for yours and our protection. In the event that these Terms of Service are considered an offer, acceptance is limited to the Terms of Service listed in this policy.
Any new features, tools, or services that may be added to our website are subject to these Terms of Service. You can review these terms at anytime on this page. We reserve our right to update, change, or replace any part of these Terms of Service by posting updates and changes to our website, without prior notice. It is your responsibility to check this page often in the event that changes and updates take effect. Your continued use and access of our website following the posting of any changes establishes acceptance of those changes. You agree that it is your responsibility to monitor changes made to this website.
SECTION 1: If the accuracy of information on this website is incorrect, we are not responsible. Such information is only to be used or read as generally as possible. We are not responsible if information is used as the sole purpose behind any decision making of any kind. Reliance of any material on this website is at your own discretion.
SECTION 2: Modifications to the established pricing of any of our services and products are also subject to change. We reserve the right, at any time, to change, update, or discontinue any service or product. Thus, we are not liable for the changes, updates, and suspensions to the products and services sold through our website.
SECTION 3: We may, at our own discretion, reserve the right to restrict services and products sold at any time. We may cancel or limit services and the purchase of products sold per person, household, and order. In the case we may have to cancel an order we may attempt to contact you using only the email address or shipping address provided at the time of your purchase of products and services.
SECTION 4: In the case that any section of these Terms of Service is found to be unlawful and void, such determination shall be enforced by the appropriate laws to the fullest extent. Such sections shall be unenforceable and exacted from the current policy statement and they shall have no influence on the validity of any other remaining details of this statement.
SECTION 5: You agree that all matters related to your access and use of the site, including all disputes,  shall be governed by the laws of the United States and the law of the State of New Jersey. You agree to the personal jurisdiction by and venue in the State and Federal Courts of Newark, New Jersey and waive any objection to such jurisdiction or venue.
QUESTIONS AND CONTACT INFORMATION
If you would like to access, correct, amend or delete any personal information we have about you, register a complaint, or simply want more information contact us by email at info@nyrosenaturals.com
POLICIES – NyRose Naturals, LLC
​We want our relationships with our clients and customers to be established upon trust and honesty. We have created fair and simple policies regarding your privacy and data, refunds and other aspects of this business transaction. meant to protect you and NyRose Naturals, LLC. We hope you find this information helpful. If you require more information related to our policies, please utilize our "Contact Us" page to submit your request.  
Privacy
SECTION 1: Any Client data belonging to any visitor of the Nyrose Naturals website will not be sold to any third party marketers and affiliates or used in a manner that falls outside the scope of the business transaction meant to be facilitated by nyrosenaturals.com. Client information is used solely for the purpose of contact by your stylist, completion of your order(s) and/or the resolution of any discrepancy we are notified of. NyRose Naturals may also contact you to offer promotions and discounts, which is optional to the user.
SECTION 2: Consent is given when a user provides us with personal information to complete a transaction, place an order, return a purchase, or verify a payment method. Consent can be withdrawn in writing via our "Contact Us" page at info@nyrosenaturals.com, with details stating the reason for the withdrawal. Withdrawing your consent means that NyRose Naturals will not contact you with information on any promotional services, discounts or other solicitation based contact.   
SECTION 3: NyRose Naturals complies with all federal and state regulations and we may disclose your personal information if we are required to do so by law.
SECTION 4: We take justifiable precautions when it comes to protecting your private information. We want to ensure that your information is not misused, disclosed, altered, or destroyed. When we receive your information it is immediately encrypted using secure socket layer technology (SSL) and stored using AES-256 encryption. There is no guarantee that your information will be 100% secure, however, we follow all accepted industry regulation standards and follow all PCI-DSS requirements.
Third Party Providers
SECTION 1: Any third parties contracted with NyRoseNaturals only have access to your information to the extent necessary to facilitate the service provided by NyRoseNaturals to its users. However, some third-party service providers, such as payment transaction processors, provide their own private policy statements, which may allow them access to information related to your product/service transactions. We advise that you read their policies in accordance to ours so that you can understand the nature in which your private information is used and handled by these providers.
SECTION 2: We also ask that you keep in mind the jurisdictional differences that are in place between us, you, and certain third-party service providers. Some facilities used by third-party marketers maybe in a different geographical location which may cause your information to be subject to the jurisdictional laws of the location of the third-party service provider or their facility.
Cookies
SECTION 1: Our website has access to the use of Cookies. Cookies may be used to store and keep any product items in a shopping cart before transactions are made.
Product Warranty and Service Guarantee
SECTION 1: NyRose Naturals, LLC is a on-demand, natural hair care and wellness provider and strives to provide the best service to its clients. We take pride in making sure that you have a great experience each time you are styled or buy use of one of our products. Our NyRose Naturals collection helps babies overcome cradle cap and caters to babies dry hair and scalp issues made with all natural organic ingredients. If you are dissatisfied with any service or product, please notify us at the time your hair is styled or contact us within 48 hours of receipt of your product(s). If you fail to inform us of your dissatisfaction, we shall conclude that you were satisfied at the time of service and/or upon receipt of your product(s). This policy is strictly enforced, without exception.
Refunds
SECTION 1: All services are non-refundable but if you notify us at the time of service or receipt of your product(s) that you are dissatisfied with having a clear reason, we will be happy to give you a discount on your new product(s) that meet your needs.  
SECTION 2: All product(s) ordered through the website are not subject to replacement due to the error, misunderstanding or other negligence of the buyer. Customers are expected to review their orders and only pay for purchases sought.  
Methods of payment
SECTION 1: We accept PayPal and Credit Cards for purchases on this site.
SECTION 2: Since NyRoseNaturals currently uses a third party professional payment platforms to receive payments from customers please refer to the terms and conditions of the respective site for information regarding these transactions. We reserves all rights to change the Site's third party professional payment platform at any time, for any reason and solely and fully at our discretion. NyRoseNaturals accepts no responsibility for any failure whatsoever on behalf of a third party professional payment platform, this is to include, but not exhaustively: any loss of data and/or monies by the third party professional payment platform; any lost, failed or delayed payments by the third party professional payment platform; any inability to perform by the third party professional payment platform; etc.
Online Store and Warranty
SECTION 1: Products sold under the ownership of NyRose Naturals are subject to change, as well as the product's pricing. Quantities of any products or services may be limited or discontinued at any given time. Further, please be advised that all items offered by or under the NyRose Naturals brand are handmade and by nature, have imperfections. Although we are thorough, there are inconsistencies based on the use of natural ingredients and each item may look and function differently from the next. As such, we can not warrant that the consistency and quality of any product(s) or good(s) ordered and/or used in our hair styling service and wellness program.
Shipping, Returns, and Refunds
SECTION 1:All orders are processed within 48 hours and shipped within 5-7 business days of the initial purchase date.
SECTION 2: Upon 48 hours notice, all NyRose Naturals hair and health care products carry a no refund policy. However a discount code may be given with clear reasoning.
SECTION 3: We create our products using all natural ingredients. As such, Client's are responsible to read and verify each product is safe for his/her specific needs prior to ordering. NyRose Naturals is not responsible for any allergy related illnesses/deaths that may occur.
Accountability
Customers may not use our products for any illegal or unauthorized purpose nor may they, in the use of services, violate any jurisdictional laws. In addition, customers must not transmit any viruses or code of a destructive nature. A breach or violation of any of these terms will result in an immediate termination of your access and services.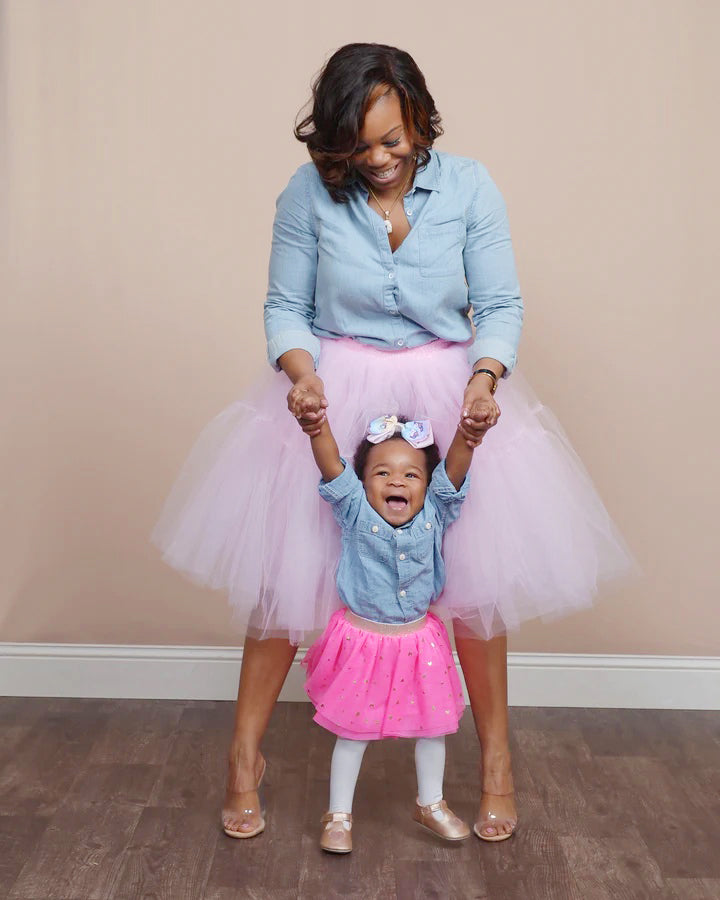 Our CEO's Ashley & Nylah-Rose
We want to help you and your little one throughout their haircare journey.
Shop Now