Regular price
Sale price
$51.97 USD
Unit price
per
Sale
Sold out
Share
View full details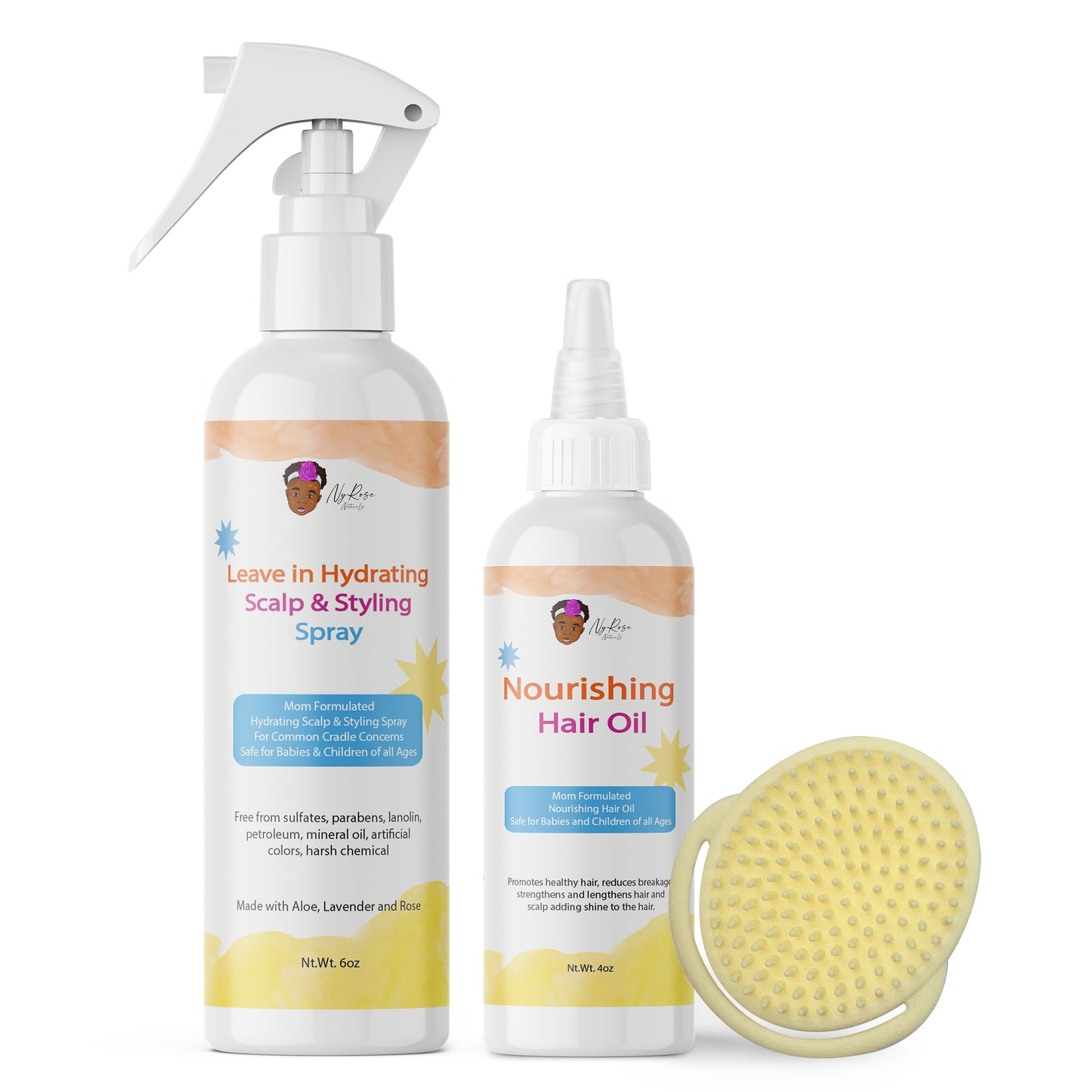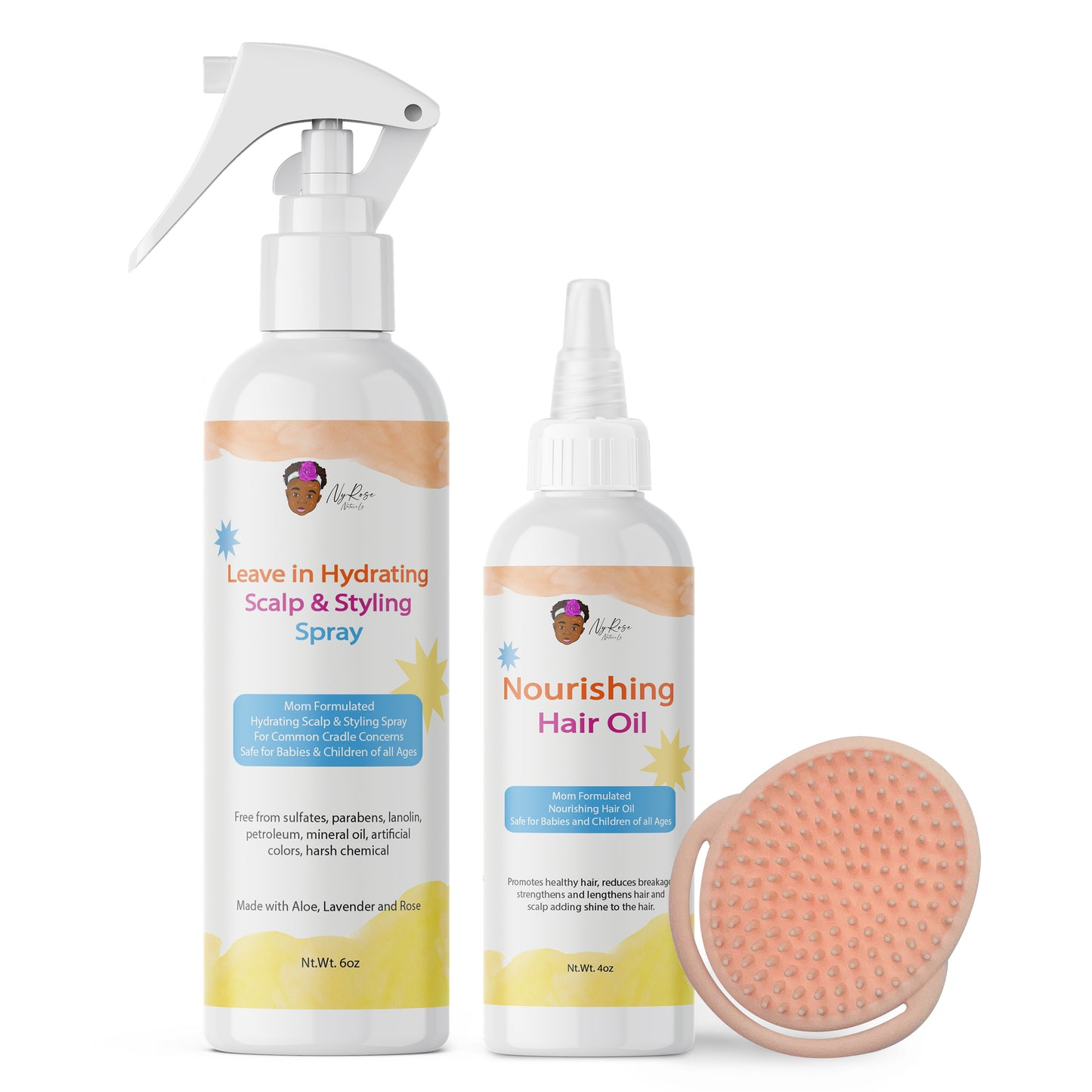 Cap The Cradle Solution
Enjoy NyRose Naturals Cap The Cradle Bundle all in one solution to Saturate , Massage, and Hydrate your baby's delicate hair and scalp. Every product we make is natural and very gentle on baby's hair and scalp producing amazing results. It's perfect for relieving your baby's cradle cap, dry hair and scalp.


Nourishing Hair Oil Ingredients: 4oz olea europaea (olive) fruit oil, ricinus communis (castor) seed oil.natural tocopherol (vitamin E), cocos nucifera (coconut) oil,calendula oil,rose extract

Directions: For cradle cap- Saturate the hair and scalp with oil allowing it to sit until absorbed by the hair and scales have soften up to be lifted.

For daily use- Apply hair oil to your child's scalp 2 times daily! Once in the morning and once at night before bed. Concentrate on thinning problem areas to moisturize the scalp and hair and reduce breakage, promote growth, and alleviate dry scalp.

Cap The Cradle Brush-Silicone Soft Bristle BrushDirections: For Cradle Cap- Gentle massage the scalp in a circular lifting motion to help lift the scales after they have softened up from being saturated with oil. Following do a gentle wash on the hair which the brush can be used to cleanse the scalp from the scales.

The Cap The Cradle Brush encourages blood circulation to baby's scalp by gentle massages (scratch free) while lifting scales formed on baby's scalp due to cradle cap, or dandruff in the most safe and gentle way. The brush is made of silicone, it's environment friendly, hypoallergenic, and BPA free. It's unique design makes it user friendly as well and easy to grip and use for styling (strap on hand).

Hydrating Scalp and Styling Spray
Ingredients: 6oz Aqua, Aloe Barbadensis Leaf Juice, rice protein, *Lavandula angustifolia ( Lavender) Flower Water, *Rosa Damascena Flower Water, Leuconostoc/Radish Root Ferment FiltraLactobacillus & Cocos Nucifera (Coconut) Fruit Extract, goicono delta lactone (natural preservative)

Directions: Spray on hair until damp and massage onto scalp with the balls of your fingers rubbing on length of hair as well. This is to be used as a daily hair hydrator prior to styling your little ones hair to heal and repair the scalp from any dry scalp or cradle cap.

The Cap the Cradle Bundle includes ( for 2 months and up):

1 4oz Nourishing Hair oil
1 6oz Hydrating Scalp and Styling Spray
1 Cap the Cradle Brush
Always do a patch test prior to full use
Cap your baby's Cradle cap in 3 easy steps
Cradle cap is when thick white or yellow crusty or oily patches are formed on the baby's scalp. It is not itchy or painful but can be hard to remove and it looks very unpleasant. Consider it the not-so-friendly twin to a dry scalp. At its core, the condition is the same, but it's a step further. Unlike a dry scalp, the cradle cap may be much thicker and accompanied by oiler sections on the scalp where present.
It typically stems from the overproduction of the natural oils of the scalp. The condition is common, and nearly 70% of infants experience it before three months.
While unsightly, it's surprisingly less, if any at all, likely to cause discomfort for your baby.However, if present for a prolonged period, you may consult with your child's healthcare provider.
The best way to clear this up in the most safe and healthy way is to saturate the hair with our growth oil to soften and lift the scales from the scalp, followed by our cap the cradle brush to help lift the scales after they have softened up and to massage the scalp for healthy blood flow, then use a mild natural shampoo to rid the scales from the hair and cleanse the scalp, and last use our leave in hydration spray to help to refresh and heal the scalp from lifting the scales to promote healthy hair growth. You can put a dime size amount of hair oil on your hand and massage on your babies head using the cap the cradle brush and then cover with our satin baby bonnet for extra protection especially throughout the night.
Here is a routine you can keep in mind to further manage and eliminate cradle cap.Try to limit washing your child's hair to every other day instead of every bath to prevent drying on the scalp and body. If their scalp is dry, shampooing up to three times a week is recommended, since shampooing can strip the hair of its natural oils, you do not want to do this too often with this condition.
We recommend using the leave in hydration spray in between washes it helps with healing the scalp from the scales, detangling making hair more manageable, hydrates the hair and scalp with light cleansing. It is very important to keep your baby's hair moisturized, hydrated, and protected to reach it's maximum health and growth potential!
Check out our Cap The Cradle Hair Solution that helps to solve cradle cap in 3 easy steps! Moisturize/Saturate, Massage, Hydrate, Protect!
Get the luscious locks you've always wanted Results don't lie
Supports Growth
Nourishes hair to support healthier, stronger hair growth
Supports Growth
Nourishes hair to support healthier, stronger hair growth
Supports Growth
Nourishes hair to support healthier, stronger hair growth
Supports Growth
Nourishes hair to support healthier, stronger hair growth
Formulated For All Hair Types And Ideal For Natural Or Relaxed Hair. Works Great On Protective Styles Such As Braids, Sew Ins, Loc Styles As Well As Use With The L.O.C Method (Liquid, Oil & Cream).
Yes, I want this offer
Solve your baby's cradle cap and dry scalp in 3 easy Steps using our Amazing Natural Hair Products
3 Easy Steps
Saturate , Massage , Hydrate
The nyrosenaturals 30 Day Guarantee
We Know That You'll Love Our Products So Much, That We Offer A Solid 30 Day Love It Or Get Your Money Back Guarantee.
As Long As The Product Is Returned Half Full And The Return Is Requested Within 30 Days Purchase, If You Don't Love It, Simply Email Us
Send An Email To info@nyrosenaturals.com . We Will Issue You A Refund, Excluding The Original Cost Of Shipping.
Reviews and Photos
My sons hair originally was very dry since I did not keep up with a hair regimen for him. When I would wash his hair it would be hard or challenging to comb. However after 2-3 weeks of using these products, I noticed that my sons hair was much softer. It was finally starting to look moisturized and keeping shine throughout the day. The dead hairs continued to shed and made way for stronger strands. It became more manageable with each day. His hair has definitely grown and the area that he really struggled with cradle cap is the thickest"
- Lenisha S.
"I am so in love with these products! These are the results from being consistent using the complete bundle in just 4 months. My daughters cradle cap issue is resolved her hair continues to get fuller and longer"
- Ashley
" I love this oil! My daughters spots are starting to fill in from her cradle cap"
- Jessica
Meet Our CEO's Ashley and Nylah-Rose
As a New Mom in 2019, Certified Natural Hair Care Stylist, Ashley Crews, found herself looking for a solution for her daughter's severe cradle cap. Unable to find a natural product that met her daughter's needs, she began the journey to create one. And NyRose Naturals was born!We want to help you and your little one throughout their haircare journey.